March 7, 2014 at 7:35 pm | Posted in
Cyworld/Fancafe/UFO/Twitter
,
Donghae
,
Eunhyuk
,
News/Rumors
,
Pictures/Videos
,
Wonderboys
|
Leave a comment
Related Post: 140303 Eunhyuk Twitter Update: a real man that seemed familiar was walking towards me from afar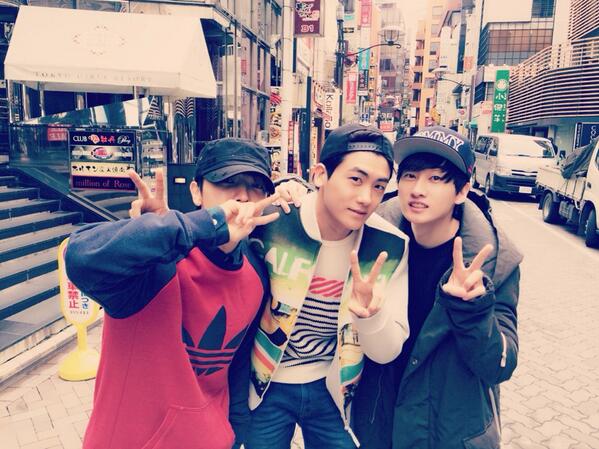 ZE:A's Park Hyung Sik randomly ran into Eunhyuk and Donghae ofSuper Junior in the streets of Japan.

Park Hyung Sik uploaded a picture of them together with the captions: "I was walking on the road wearing sunglasses when a deep voice called out my name. I can't believe they recognized me, and I can't believe we ran into each other in Japan! I think we're fated to be together… Good luck on the remaining concerts!"

In the picture, Donghae, Park Hyung Sik, and Eunhyuk make a victory sign in the middle of a road in Japan.

Internet users comented: "I can't believe they met each other in Japan", "I think it really is fate", "I love the cute relationship you guys have", and "It must have been so nice to see each other".

Meanwhile, Park Hyung Sik stars on MBC show "Real Man". Eunhyuk and Donghae rose to #1 on the Oricon charts with their new Japanese album Ride Me.
Source: Eun Hyuk @AllRiseSilver & KpopStarz
Shared at sup3rjunior.com by uksujusid
TAKE OUT WITH FULL AND PROPER CREDITS.
« Previous Page
—
Next Page »
Blog at WordPress.com. | The Pool Theme.
Entries and comments feeds.