June 1, 2014 at 10:39 am | Posted in
Cyworld/Fancafe/UFO/Twitter
,
Henry Lau
,
News/Rumors
,
Pictures/Videos
,
Polls
,
Wonderboys
|
Leave a comment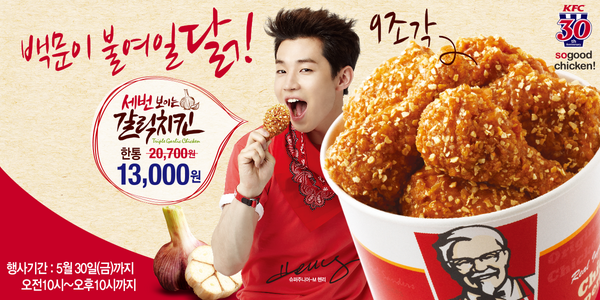 There may be a new chicken king in town.

Last week, we pit SHINee′s Onew and Super Junior-M′s Henry against each other with the title of Chicken King on the line, and the results are in!

Although Onew is known for his chicken obsession, it was Henry, the new face of KFC, that took the win – albeit by a really slim margin – with 50.3 percent of votes.

Onew put up a good fight but was forced to settle for second place with 49.7 percent of votes.
Source: kfc_korea & http://mwave.interest.me/enewsworld/en/article/67256/battle-super-junior-ms-henry-beats-shinees-onew
Shared at sup3rjunior.com by uksujusid
TAKE OUT WITH FULL AND PROPER CREDITS.
Next Page »
Get a free blog at WordPress.com | Theme: Pool by Borja Fernandez.
Entries and comments feeds.