June 28, 2014 at 11:01 am | Posted in
Awards
,
Cyworld/Fancafe/UFO/Twitter
,
News/Rumors
,
Pictures/Videos
,
Wonderboys
|
Leave a comment
Related Post: 140506 @mtvitaly Twitter Update: Super Junior have earned a place
140621 @mtvitaly Twitter Update: Best Artist from the World Super Junior #ItalianMTVAwards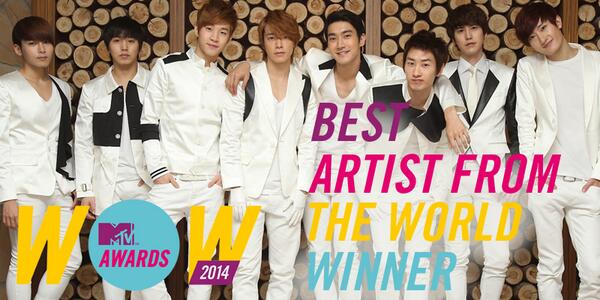 Since their debut in 2005, Super Junior has continually proven their popularity around the world, so their latest distinction comes as no surprise.

On June 21, the SM Entertainment mega-group was named MTV Italy's 'Best Artist from the World' at their annual awards ceremony.

To win the distinction, Super Junior beat out other popular world acts Anna Tijoux, Kongos, and 5 Seconds of Summer.

Additionally, the K-Pop idol group wrangled the top number of supportive tweets from fans and beat out the likes of English boy band One Direction and Canadian pop star Justin Bieber on the MTV Italy social ticker, with well over 400,000 SNS messages.

The latest award is the second time Super Junior has graced the MTV Italy Awards. Last year the Korean group was nominated for the 'Artist Saga' award, although they did not win.

Super Junior is currently operating with nine active members – Heechul, Kangin, Shindong, Sungmin, Eunhyuk, Siwon, Donghae, Ryeowook, and Kyuhyun – out of their lineup of twelve. Members Leeteuk and Yesung are currently completing their mandatory military service while Kibum has taken a temporary leave of absence from the group while pursuing an acting career.

While Super Junior has not released a new Korean album since 2012, they embarked on a world tour, Super Show 5, from March 2013 until February of this year, playing shows on four continents.
Source:  mtvitaly & www.kpopstarz.com
Shared at sup3rjunior.com by uksujusid
TAKE OUT WITH FULL AND PROPER CREDITS.
Next Page »
Create a free website or blog at WordPress.com. | The Pool Theme.
Entries and comments feeds.